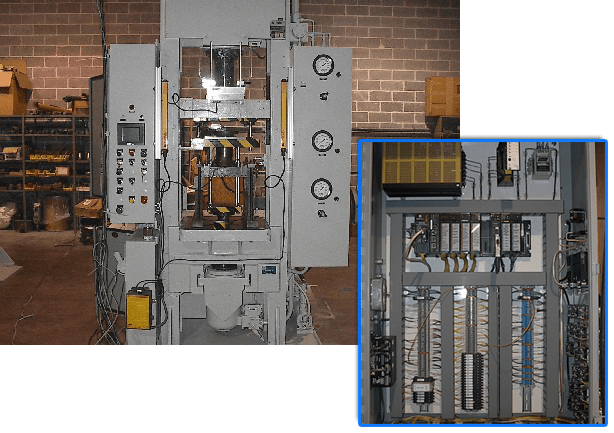 If you have an older model press that isn't performing to your standards and don't have the budget for a new press, we can help. Our extensive history with Bussmann presses enables us to perform cost-effective rebuilds to extend the life of these incredible machines.
Due to their strong design and engineering, we are also able and equipped to perform rebuilds of Mannesmann and Alpha presses. Regardless of brand, our rebuilds bring presses back to optimum performance and provide you with years of additional service. The rebuild process starts with stripping down each press and inspecting the bases for cracks or fissures that could compromise the rebuild. Then, we rebuild the entire press including pumps and manifolds. We resize and replace worn parts including hoses, gaskets, etc. Once complete, your newly rebuilt press will be painted and fit with our innovative Digital Press Touch Screen Controls.
Powder Compacting Press Rebuilds
Included in a Powder Compacting Press Rebuild
New Hydraulics: The only hydraulics saved are the cylinders and the main valves, all other hydraulics are removed.
New Electronics: We add the latest high-speed PLC.
CNC Closed-Loop on Lower Ram and Feeder (stop valves are removed): Proportional valves are added to better control weight. The use of the prop valve is to eliminate having to use a stop valve.
Linear Encoder on Upper Ram with Open-Loop Control: A linear encoder is added for programming the upper ram motions. This eliminates the upper ram cam rail. This helps with a more accurate part height.
New Feeder Cylinder: Closed-loop control with speed control. Better repeatability for more consistent fills.
New Electronic Variable Pump: For upper & lower ram speed control.
New Motor: The old worn out motor is replaced with a new one.
External Oil Cooler: Added for easier maintenance and convenient access.
Touchscreen: Allows for quick, simple pre-programming of press controls.
Refurbished Die Plates: Refurbished die plates with new pins and bushings.
Refurbished Upper and Lower Main Cylinders: Inspected and repaired as needed.
We can rebuild the Bussmann HPM-60, HPM-100 and HPM-200 as well as various Mannesmann and Alpha presses
Benefits of Rebuilding a Bussmann/Mannesmann/Alpha Powder Compacting Press Include:
Rebuilt presses are better than they were originally.
The accuracy and operations of the press are better than when it was brand new.
Powder Compacting Presses can be rebuilt to today's standard for about half the cost of a new machine.
While we are confident of the innovative capabilities and performance of our entire line of new hydraulic powder compacting presses, however, we understand that an investment in a new machine is not always possible or timely. If you have a Bussmann, Mannesmann or Alpha press and are looking to extend its use, Contact Us today for a free consultation.