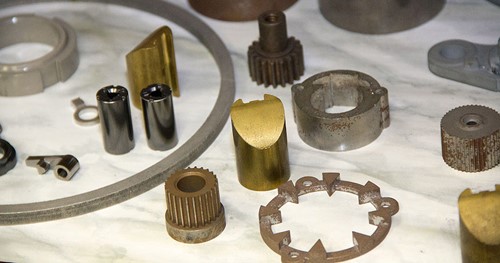 In 1999, Willard Ettinger, a long-time manager of C.C. Sutinen & Company (a well-known hydraulic press manufacturer) felt the company wasn't fully realizing its full potential in the powder compacting press market, so he purchased the company and changed its name to Digital Press.
Willard, who had worked his way up from the stockroom of Sutinen, was by then fully involved in the design and engineering of the presses and managing the service side of the business. This experience led him to truly recognize and understand the quality and potential of the company's products–presses that had grown from the company's background as a distributor of the iconic Bussmann Presses.
Ettinger's strategy for helping his new company reach its full potential was simple: keep pace with demand by maintaining immediate inventory. He instituted a revolutionary production process that required pre-building one of each of their presses to ensure they were ready to sell. (This had never been done in the powder compacting press industry.)
In addition, Digital Press instituted a rigid quality control process that required every movement of each pre-built press be personally checked and verified by Willard and his son Martin. With this, Willard ensured the reputation and future of his new company, making Martin personally responsible for each new press sold.
Thanks to innovative production policies such as these, Digital Press has built on the legacy of its presses and thrived since its founding. In the process, Willard has been able to share his 40 years of industry experience with his son Martin and passed down an ongoing compacting press pedigree for years to come. "I have complete confidence in Martin's skills and abilities. I've witnessed his dedication to our mission, our products and our customers. I know that he will build on what I have started and lead Digital Press into a successful and brilliant next chapter."
Why Should You Buy Our Digital Press?
Digital Press is leading the powder compacting press industry. This is our specialty. Our numerically controlled closed-loop system has been tested and proven to have a consistent output with a rugged design. Our feedback messaging feature and intuitive touchscreen simplifies setup and operation. We also understand that each customer has their individual needs to produce good parts. Since all the programming and design is our own, we can adjust almost aspect to fit your needs.
Digital Press traces its roots back to Mr. Meers of Mannesmann-Meers, who is a recognized pioneer in the use of hydraulics in the powder compaction industry. With these beginnings and inspiration we focused only on building the most reliable hydraulic presses available.
Our design and business philosophy reflect this focus. Digital Press does not consider service as a profit center! We incorporate mechanical and digital diagnostic features into all our presses, so that we can work alongside our customers to troubleshoot any problem using the telephone and Internet.
Rarely does it take us a day or two to resolve an issue. It usually takes less than an hour or two. This is done at no charge to our customers. And it keeps our technical staff available for a site visit if necessary. We have designed our machines to constantly deliver low-cost ownership year after year. We aim to keep your CFO happy!
This philosophy does cost us at times, but we are not backing off. In one incident, a customer had an old Bussmann press that had been looked at by two other companies that recommended it be rebuilt. The customer told us they were considering buying one of our new presses but asked if we could come and take a look at it.
With $2,500 in parts and the cost of the service call, we were able to get the machine back in production and, as a result, lost a new machine sale. Our maintenance philosophy has also cost us. In one case, the PM of a plant liked the service staff from a competitor and decided to buy their machine over ours. It was interesting when speaking with our Maintenance team afterwards. Since we don't have to do service calls very often, our service staff has no time to build relationships. Our design and maintenance strategies do not lend well to creating a lot of face time. However, it does make sound business sense for our customers, and that is what builds our customer loyalty.