Hydraulic Powder Compaction Press Features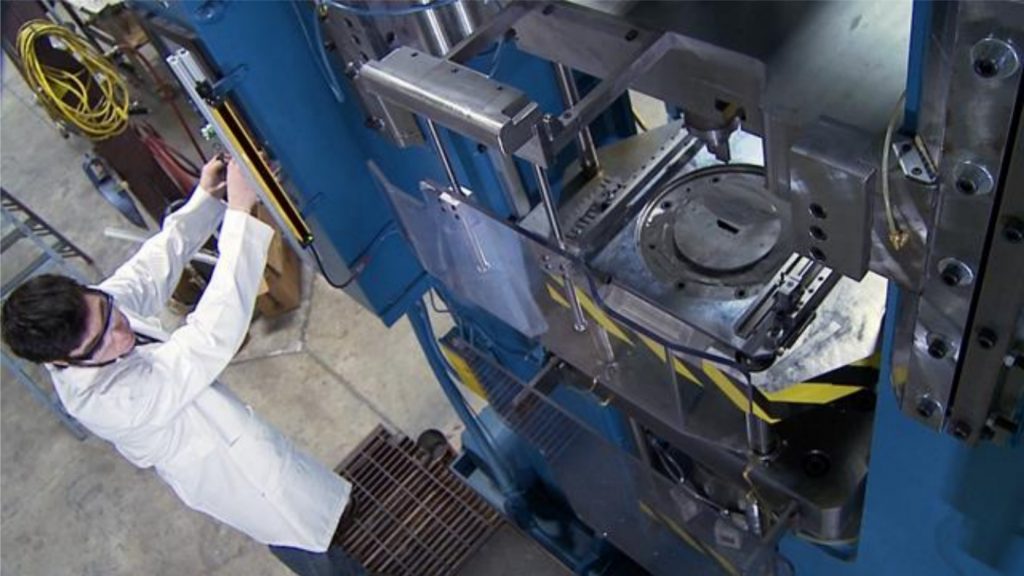 Digital Press manufactures cutting-edge CNC Hydraulic Powder Compaction Presses providing years of flawless performance and operations. Up to 550 tons of precise controlled compaction allows users to create parts that had been difficult or nearly impossible to produce. With the precise position and speed control that CNC hydraulics offer, customers can be more productive than ever.
We design and build presses that combine sophisticated electronics, software and hydraulics to help people get the job done with the highest quality and the lowest possible cost. With our touchscreen powder compaction presses, you can control the motion to a degree that is not possible on any mechanical (or older hydraulic) press.
Digital Press Powder Compaction Presses Include an Impressive Array of Useful Performance Attributes
All the presses we produce include the following top features:
Customer Specific Motion Programming allows users to perform unique motions to complete more challenging parts (seamlessly integrated into the standard operation of the press).
Automatic Fill Adjustment allows the press to adjust the powder fill so that it locks in the proper target part height or density.
Die Force Float allows users to float the die at a speed or ratio of upper punch speed to control top to bottom part densities.
Die Force Float Lock allows users to lock the lower ram in the stop position with the force of an independent pump to maintain accurate flange thickness (when using a flanged die).
Max Die Entry monitors how deep the upper punch stabs into the die cavity to prevent tool damage (making die entry stops unnecessary).
Parts/Shift/Stop counter counts the total number of parts made, the total number of parts made in a shift and automatically stops the press when the parts count is complete.
Numerically Controlled Feeder allows for touchscreen control of pre-programmed motions so users can easily control bump speeds, push off, multi-filling, contour filling, suction fill, drop fill and max suction fill.
On-board Modem allows for remote diagnostics so our support staff can troubleshoot or make program changes instantly over the telephone. (Eliminates costly service trips improving up-time.)
On Screen Help/Error Messaging tracks more than 100 error checks being monitored while the press is cycling or in manual mode; then provides a descriptive title and narrative explanation of the problem and the corrective action–a great time saver!
Job Storage allows for the instant recall of previously stored setups, thus greatly reducing tool change time.
Multi-fill allows for multiple fills when you need a deeper fill than your die will allow.
Multi-press allows for multiple powder presses to increase density, as appropriate.
Numerically Controlled Secondary Punches that we call a pre-lift cylinder which has a fill position, press position and withdrawal position that allows for precise control of compacting and withdrawal speeds.
Hold Down/Lift Off allows the upper punch to hold down or lift off the part to prevent lamination or squashing (during withdrawal).
Variable Speed Compacting provides users with the ability to preset up to 3 speeds for use during part compaction.
Temperature Probe monitors oil temperature and controls the water valve to maintain the optimal temperature during operation.
And the following basic features:
CNC control on all motions and operations
Touch Screen
Internal memory storage
Ethernet port
Telephone modem
Self-diagnostics
Remote diagnostics via modem or internet
Digital ram position readout
0.001″ resolution
No stop valve
No hand wheel mechanism
No upper ram cam rail
No upper ram positive stops
No custom made/special hydraulic components
Multi-level part production capability
Fast cycle rates
Rugged, practical design
Low maintenance
Quiet operation
Pressure control
Myriad of ram movements to solve challenges of compacting powder into exacting shapes:

Overfill
Underfill
Maximum suction fill
Fill compensation (contour filling)
Pressure profile
Variable speed compacting

Ram motion is under complete CNC control.
Ram speed is under complete CNC control.
Cycle motions and speeds are completely under CNC control.
Coordination or motions under complete CNC control.
SAE O-rings employed where possible to eliminate oil leaks.
Two main manifolds contain most of the hydraulic circuitry.
The power unit can be at floor level or in a pit.
Larger machines can be at floor level or in a pit.
Power unit and oil reservoir are separated from the frame by a walkway allowing rear access.
Proven withdrawal type compacting system.